Like many people, you probably ran out of things to watch during the pandemic. So you decided to switch to doomsday-like movies and TV shows about viruses to make "the most" of the COVID-19 crisis.
In your search, you probably came across Contagion. It's a pretty relevant movie since it's about a virus transmitted by respiratory droplets (stuff you produce when you exhale). Plus, it handles the pandemic topic really well – scientists even praised it for how realistic it was!
But here's the million dollar question – can you watch Contagion on Netflix?
Well, you can, but there's a problem – you can't watch it in any country you want. The title is actually only available in a few locations. The easiest way to check Netflix's whole catalogue to find them is to use StreamCatcher. It's an online tool that shows you where movies and TV series on Netflix are available.
In the case of Contagion, it seems it's only available in four countries at the moment:
Canada
The UK
South Korea
India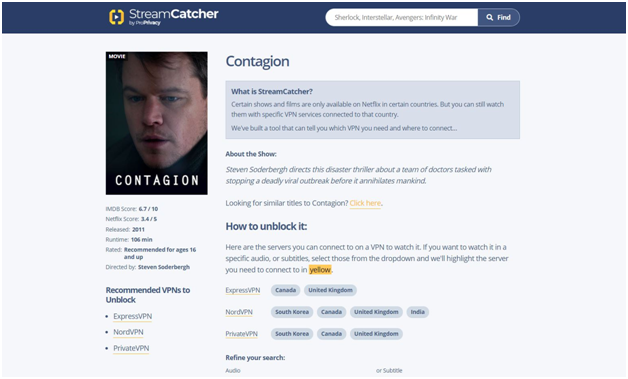 The availability might change as Netflix renews licensing agreements and buys new licensing rights. So that bulleted list isn't set in stone!But, for now, it's pretty accurate.
If you'd like to learn more about this (like why Netflix blocks the movie in other countries, or how to watch it where it's not available), keep reading. We'll answer all your questions in this article.
Why Isn't Contagion Available Worldwide on Netflix?
After all, Netflix is available in over 190 countries. So why does only a very small number of regions get this movie?
Because Netflix only bought licensing rights for those countries. They don't own the movie, so they need to license it before they can stream it on their platform.
And while Netflix would love to get global licensing rights, that's often not possible. We can't say why they couldn't get them for Contagion, but it's probably because other streaming sites and TV networks already bought the rights for other countries.
For example, Cinemax owns the rights for this movie in the US. So you can only watch it on iTunes, Amazon Prime Video, or through the Cinemax add-on on Hulu.
But even if the global rights were for sale, that wouldn't mean Netflix would buy them. The company first needs to check its analytics to see if its global audience would be interested in the movie. If only some regional audiences would like it, Netflix would obviously not buy the global rights. After all, it spends an absurdly huge amount of money on licensed content, so it can't make wasteful investments.
How to Unblock Contagion on Netflix – Just Use a VPN!
Netflix uses geo-blocks to prevent you from watching the movie if it's not available in your area. While their system is efficient, you can bypass it. All you need to do is use a VPN – it's as simple as that!
If you don't know what a VPN is, it's basically an online service that hides your geo-location. It stops Netflix from seeing your IP address, meaning the site can't find out what country and city you are from. Instead, the site will only see the VPN's IP address. As long as that IP is from a country that has the movie, you'll be able to watch it.
How to Watch Contagion on Netflix with a VPN
Don't worry – it's not a complex process at all! You won't need to read any manuals or long articles. Instead, you just have to follow these five steps:
Step 1 – Subscribe to a good Netflix VPN. In our experience, ExpressVPN, NordVPN, and CyberGhost VPN are excellent picks.
Step 2 – Log into your account on the provider's site, and download the right app for your device.
Step 3 – Install and run the VPN app.
Step 4 – Use the app to connect to a server in a country where Contagion is available. Again, you can quickly check Netflix's whole catalogue to find the right regions with StreamCatcher.
Step 5 – Log into your Netflix account, search for Contagion, and start watching it.
Another Cool Reason to Use a VPN – Stop Bandwidth Throttling!
Besides hiding your IP, VPNs encrypt your traffic end-to-end. That's basically a fancy way of saying they stop anyone from seeing your web traffic, including your ISP. If they try to sneak a peek, they'll just see gibberish.
For instance, instead of a connection heading to "Netflix.com," they'd just see stuff like "H&34JufdGteE(*+kf."
Why does that matter?
You get better privacy, for one. But you also stop your ISP from throttling your bandwidth when you binge Netflix. They won't know you're using the site, so they won't be able to selectively lower your Netflix speeds anymore.
Do All VPNs Unblock Contagion?
No. Netflix can detect most of them and block their IPs. When that happens, you end up on the Netflix proxy error page.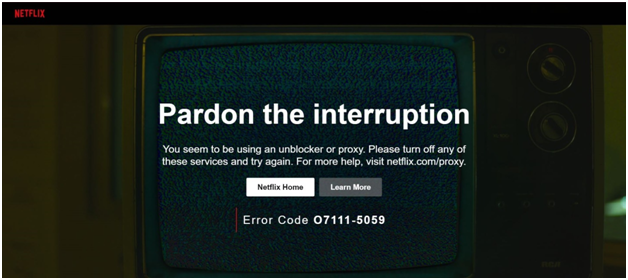 That happens because Netflix detects the VPN's IP addresses. The only way to avoid that is for a provider to refresh them very often. Unfortunately, not all VPNs can do that because it's pretty expensive.
To make sure this annoying error doesn't get in the way of your fun, you should use a provider that's known to unblock Netflix without any issues – like ExpressVPN, NordVPN, and CyberGhost VPN.
Getting Slow VPN Speeds While Watching Contagion?
If your VPN speeds are below 25 Mbps, you won't be able to enjoy Ultra HD quality. You can increase them by trying this:
Use a nearby server to help data packets travel faster between the VPN app and server.
Use lightweight protocols like WireGuard, IKEv2, and L2TP/IPSec.
If you can only use OpenVPN, make sure it's running over UDP instead of TCP.
Unblock Contagion with a VPN over wired connections, not WiFi.
Conclusion
Contagion is available on Netflix, but only in a few countries. To watch it anywhere in the world, you need to use a VPN. Just connect to a server in a region where the movie is available, and you're good to go!
If you have other helpful unblocking or VPN speed optimization tips to offer, please let us know in the comments below.