Now, recording and streaming through PlayStation 4 have become easy with Elgato HD60s. It's quite easy to setup Elgato HD60s on PS4 with just a couple of clicks.  You would be wondering why to go for Elgato HD60s as there are other devices already available in the market.  Let's find out.
The Elgato HD60S has a USB interface that works faster. It means that the "moment game perspective" of Elgato includes is maintained, with incredibly small inactivity between what you are playing and what is getting the product. Since the primary unmistakable contrast is the HD60S with the new USB-C port that gives the faster movement of data, you can record the best moment of the game without any pause.
With the Elgato HD60S, you can record unlimited gameplays in 1080p quality at the 60 FPS. It also has a cutting-edge H.264 encoder dedicated to reducing the load on your processor as it requires when you record gameplay on PS4 in HD. So, if you want to capture you the gameplay of your favorite game, then here's how to setup Elgato HD60S on PS4.
How To Setup Elgato HD60s On PlayStation 4
Before you head over to the steps to connect Elgato HD60S to PS4, you should check out following things with requires.
Things needed to Setup Elgato HD60s On PlayStation4
TV
Elgato HD60s device (includes a cable to connect with TV, PS4, PC)
Keyboard
Mouse
Compatible PC
PlayStation 4
Monitor
Headset W/MixAmp (include a cable to connect with ps4)
Webcam
Headset
Laptop (optional)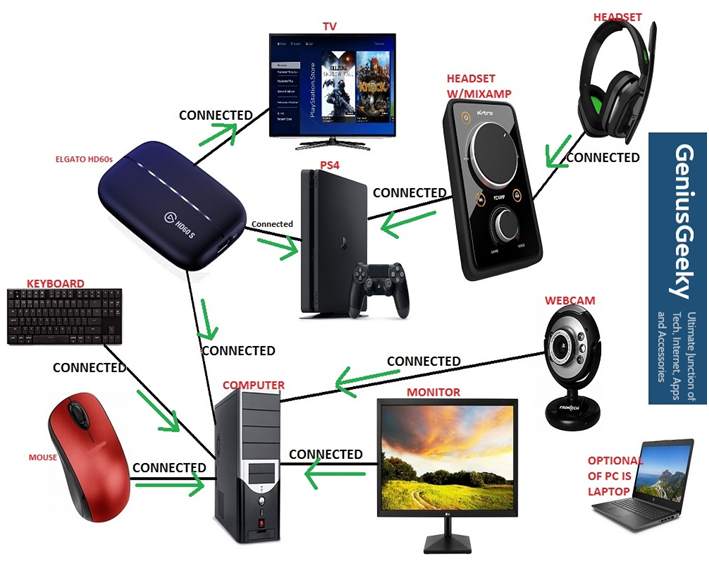 How To Connect Elgato HD60s On PlayStation 4 [Initial Configuration]
If you follow these steps, then you can use your Headset W/Mixamp with a headset, to listen to PC audio and your PS4 audio. You will be able to chat on your PS4. In case if you want to chat with both PC and PS4, then you need to add an external microphone which will run through PC.
Step #1. We start with the PC, connect a mouse, keyboard, Elgato hd60s, Webcam and monitor to PC.
Step #2. Now using the HDMI cable output connect Elgato HD60s with TV.
Step #3. Now connect your PS4 with Headset W/Mixamp with the optical cable
Step #4. Connect Head with Headset W/Mixamp
Step #5. If you want to use Laptop instead of a PC, then you can replace the PC with a LAPTOP that is your choice.
How To Install Elgato HD60s On PlayStation 4
Make sure that everything mention in the above steps is powered on and connected correctly. Keep in mind before you go through the below steps you have installed the Streaming software into your PC if not, then we can share a suitable link for streaming and recording software for your PC.
Step#1. On your PS4 go to setting, scroll down to a system, now un-tick on "Enable HDCP" it will turn off, and the screen will flash and now go back to the home page.
Step #2. Now you will see the screen where Elgado is connected with stream labs and on another screen PS4 is attached if you see the same then it's ok.
Step #3. Now you are enabled to record whatever you need, to add the source you need to click on a new scene. If you had already made a new scene, then go to the "+" button and click on "video capture device."
Step #4. Now click on "Add source," here you can click on "Add new source" this will help you to add Webcam or DSLR. When you click on "Add new source" you will get the list of devices which is already connected to your PC select the one you need to add and click on "Done" button, and it adds.
Step #5. You can also adjust the size to capture the video and then you're ready to go.
Enjoy your Streaming and recording video from Elgato HD60s on PS4.
Final Words:
The important part of Elgato HD60s Streaming and recording device is that it takes you to the next level of the streaming world. It also works on a low configuration system and allows the user to get the fast performance output on Playstation 4. If you get any query during configuration, then comment below, and we will help you to solve any problem related to the topic.