BibMe is a bibliography generator & citation creator which allows the automated procedure to save loads of time building and also references formatting. If you are not familiar with BibMe then read till end because it is very useful online tools which can help you with grammar check education documents, assignment and more. Bibme provides the best citing which is used by many researchers and scholars such as BibMe APA and allow them to get citation format for not only psychology but also for social science and behavioural. There are other Bibma citation formats available in which BibMe Chicago and BibMe MLA are the best to choose first after APA citing.
BibMe helps with information about educational without spending hours. BibMe can discover your source from external databases, complete the data, and then format the quotation correctly. Or, you can enter your submissions manually if you have the source in front of you. Students can also learn how to quote their references correctly by consulting the "Citation Guide" page of the manual style rules.
BibMe Formatting Style Guides To Buy
We support this type of secure online shopping which provides full satisfaction to the buyer from any part of the world.
APA: Publication Manual of the American Psychological Association (6th Edition)
MLA: MLA Handbook for Writers of Research Papers (7th Edition)
Chicago: The Chicago Manual of Style (16th Edition)
BibMe Features:
You can check for Plagiarism or detect accidental plagiarism.
There is a "Create a Citation" feature available in BibMe.
It helps to save & download Bibliography
It provides to keep your source accurate
It gives credit to those who deserve it.
It detects passages that may need to be cited.
How To Create Account @ BibMe
If you are very much interested in BibMe then follow the steps carefully to create Account and avail the benefits of BibMe.
Step #1. Open the BibMe link into new Web browser http://www.bibme.org/
Step #2. Click on "Create Account" located at the top right of the screen.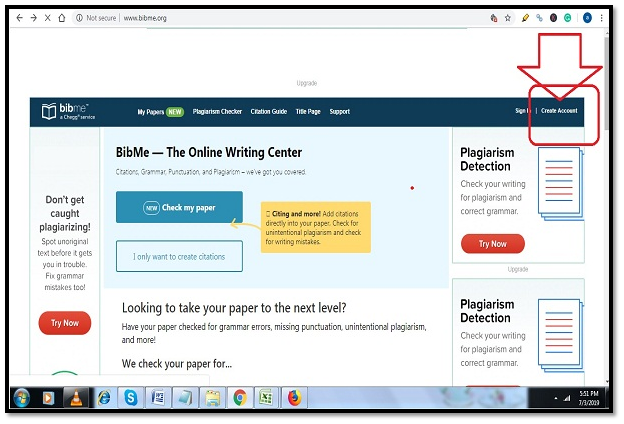 Step #3. Enter your email ID and Password to the provided field and select your option Teacher, Student or Parents. And then click on "Create Account" button.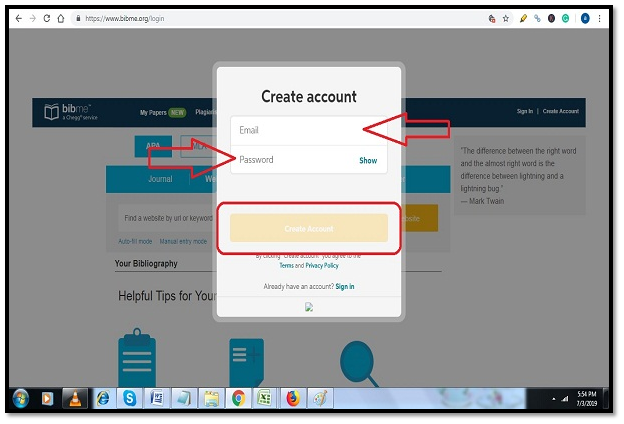 Step #4. Now BibMe will ask for Three days trial $9.95, enter your card detail to the provided and you will be registered in BibMe system.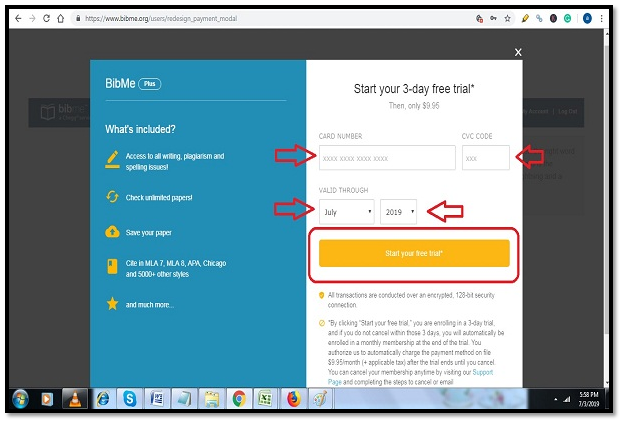 Step #5. An email will send to you from BibMe systems which confirm your registration. If you get the email then you are successfully creating your account in BibMe.
Now follow the Login steps and enjoy your BibMe features.
How To Sign In @ BibMe
If you have already created your BibMe account then follow the Sign in the method.
Step #1. Open the BibMe Login (https://www.bibme.org/login) link into the new web browser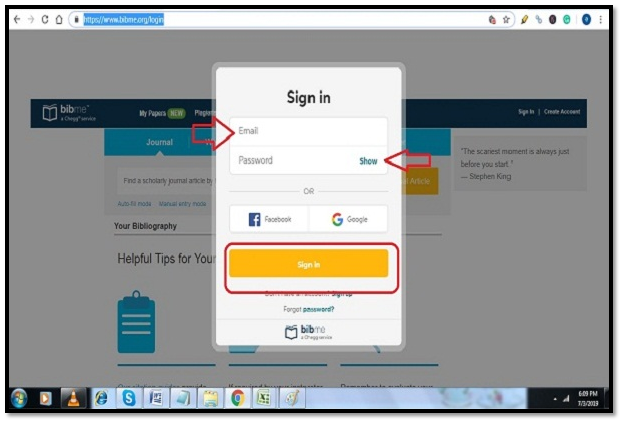 Step #2. Enter your email address and password which you enter during the registration of BibMe and click on "Sign In" button.
Step #3. Now you are into the BibMe Page and you can do what you want in this Website.
In some case, if you forget the password then follow the below steps.
How to Reset Password @ BibMe
Step #1. From the same Login page where you enter ID & Password, you see the "forgot password?" button click on it.
Step #2. Enter your email address which will help the BibMe to confirm your identity and send your reset password link through email.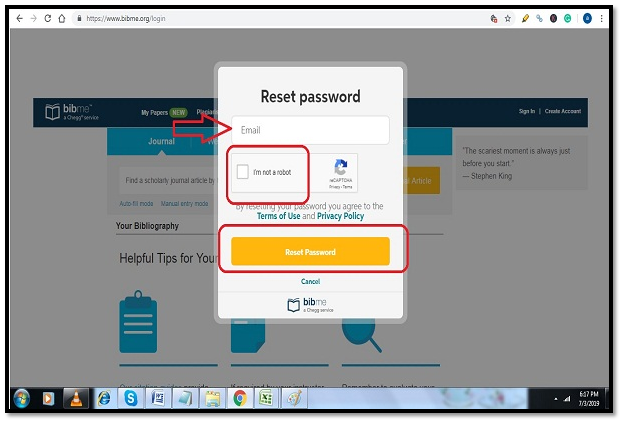 Tick "I'm not a robot" and then click on "Reset Password" button.
Step #3. Go to your email inbox and check the BibMe email received, open it and click on reset password link which will ask you some question and option to change your password. This time save the password in some visible secure place.
Step #4. After password reset you are now able to log in your same account with a new password, without wasting time go to the login page and enjoy your BibMe account.
Final Words:
In this article, I discussed the BibMe website which helps in bibliography generator & citation creator. There is registration, login and reset password method in this article, so you can get the proper sign-in method. BibMe is the best tools for education you can recommend this website to your younger brother, sister, children and friends children. If you are personally using BibMe as a student, parent or teacher then share your experience in comment box which helps us to provide a more knowledgeable information article.