AT&T is an American telecommunication multinational company whose headquarter is located in Whitacre Tower in Downtown Dallas Texas. As per today market, At&t has become one of the largest telephone operating company which revenue is about $163.8 B USD. Almost 35 years have passed away that AT&T is providing its service to the Telecommunication world. I am also a fan of AT&T Company which provides the best package to buy in every company phones. In this article, we will be discussing att mobile transfer which is not so difficult but only some guidance can clarify the actual method to transfer att mobile data.
This time AT&T offers Samsung Galaxy S10+ 128GB with Prism Black, Prism White, Prism Blue, and Flamingo Pink colors. If you are interested in AT&T special offers then go to its official page where you can get the benefit of purchasing smart phones. You can see the screenshot of Samsung S10+ 128 GB phone special offer which I bought from AT&T. The previous phone I was using Samsung Galaxy S8 64GB which includes 64 GB external card. My old Galaxy S8 phone was also bought from AT&T, so while transferring the date from old phone to new I was getting some system error plus the duration was so long that this method was irritating me.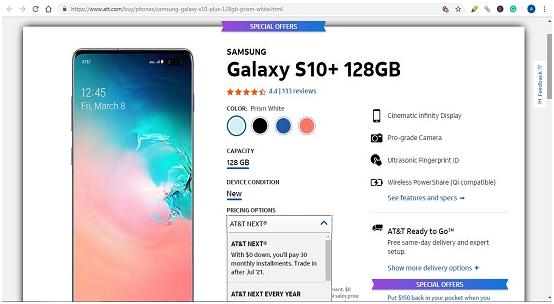 So I search Google and get the best way of att mobile transfer through Android App. This app is also available on the official Google Play store that allows the data transfer by reducing more than 50% time duration. If you don't know about this application then read till the end and share your experience in the comment box. Is att Mobile transfer app is useful? Meanwhile, check how you can get att mobile transfer app to transfer large data.
How to Get An Att Mobile Transfer App On Android Phone.
If you purchase AT&T mobile then you will be getting the AT&T apps into the phone by default, to transfer the data does not allow any android user to download it from any platform or websites. You need to search for your AT&T device app room.
How To Transfer Data From One Phone To Another Through Att Mobile Transfer App [FOR ANDROID /TABLET]
It is very simple to bring your data to your new at&t Samsung phone by following steps carefully. With att mobile transfer app you can transfer your contacts, call Logs, messages and entire media files when switching to a new device.
Step #1. Open the app in both device and tap on "From this device" in the old phone. Tap on "To this device" on a new phone.
Step #2. Your old phone screen will appear QR code which is scan from the new phone. It will connect to Wi-Fi, if the Wi-Fi is off then it will notify before connecting with each other.
Step #3. After successfully connected, from the old phone screen it will ask to tick on those boxes which you want to transfer data into new.
Step #4. After selecting tap on the "Transfer" button and the process will start.
Step #5. During the file transfer, you will be notified that "Keep this application open during the transfer source as needed."
Step #6. When transfer completed, the "Next" button will appear, tap on it.
Step #7. Now tap on the "Exit" button and check in new device storage that what you want to transfer is received or not.
Step #8. Check message, contact, media data, etc if everything is transferred then your att mobile transfer app has successfully done the job. ENJOY!!!
Related Information:
Updated: May 15, 2019
Size: 21M
Current Version: 3.11.1
Requires Android: 4.4 and up
How To Transfer File from Old iPhone To New iPhone With AT&T mobile transfer
Using att mobile transfer app on the iOS device is very simple and faster than other software available in APPSTORE. If you want to transfer the content of the old iPhone such as contacts pictures and videos to the new iPhone then follow the steps.
Note: Make sure that both device Wi-Fi is turned on, otherwise it will take time to connect or unable to connect.
Step #1. Go to the Appstore from the device and search "AT&T Mobile Transfer" or you can use the below download button.
Step #2. Install the app in both the old and new iPhone.
Step #3. Select "From this device" in old and select "To this device" in new iPhone.
Step #4. AT&T Mobile Transfer app will as for QR code scan to conned, follow it and continue the process.
Step #5. After you connect both devices through AT&T Mobile Transfer, select the contents which you want to transfer into a new iPhone.
Step #6. Tap on "Transfer" button and it will complete within couples of minutes.
Step #7. When transfer had done check new iPhone that all the content of the old iPhone is copied to the new iPhone if it's ok then you have done successfully.
Enjoy your att mobile transfer app on the iOS device.
Related Information:
Updated: May 15, 2019
Size: 24.2 MB
Current Version: Version 3.11.0
Requires Android: iOS 8.0 or above
Compatible: iPhone, iPad, and iPod touch.
Final Words:
In this article, I discussed the simple and accurate method of how you can transfer old phone contents into a new phone without losing any data. This method is possible with att mobile transfer app available for Android and iOS device. If this article provides you the useful help then share your experience in the comment box, also share this to other AT&T device user which are getting trouble in transferring mobile date from an old device into the new device.