LMGTFY (Let Me Google That For You), if you are not familiar with this term, then you should read till the end. LMGTFY helps to deliver those simple answers which are asked to you and can search commonly on Google search engine. It helps you to reply with the satirical answer, and that person will understand how he/she can find answers by themselves. LMGTFY generate the animation link, which can share through social medial like Facebook, iMessenger, etc. So if anyone asks you a question that is not relevant to you then answer with LMGTFY.
Some time people select an individual from office, school, colleges, home or family/friends and make them their first resource to find the answers. If you are in such type of situation, rather than say not to them, go through LMGTFY. Like most knowledgeable individuals on the internet, you switch to your favorite search engine to discover the information you were looking.
How LMGTFY Helps?
The questions that come in the manner of suddenly without being involved in that subject also can be reduced and processed with LMGTFY. Let Me Google That For You shows how simple it would have been to just search for what they wanted to learn, rather than to make you do it for them. LMGTFY provide the sarcastic way to respond to any question asked, even if people knew how to use Google to search that particular question.
How Does LMGTFY Work
Using lmgtfy is very simple because it works on Google search engine and you know when it comes to Google; every question has the answer and easy to find.
If your friend asks you the age of Vincent Cassel, what will you do as you don't know who he is and what he does? But when you search for Google, which is a possible thing for him to answer. You never went out from your Asia; you never saw any French movies or none of your relative lives in France. So how would you know about French actor, this can be answered but with a satirical way which is possible through LMGTFY.
The first-person will understand that he/she can easily do Google for its question.
Secondly, that person will gracefully get the answer through LMGTFY.
Third the last you maintain the figure of speech with that person.
Step #1. Copy the question which asks above.
Step #2. Open the web browser and launch LMGTFY.com web page.
Step #3. Paste the above question in a provided search field and enter "search" button.
Step#4. You will get the relevant answer pop up with shortened link inside at the bottom.
Step #5. If you click on "preview" below, Google's searching for that precise issue along with its search outcomes will show you the brief animation of what it looks like.
Step #6. Now go back and copy the link and go to your Whatapp and paste as a reply, to that person who asks that relevant question. Option: you can add the acronym "LMGTFY" before past the link.
Step #7. When your friend clicks on that link, then he will be shown how Google LMGTFY answer his question.
How To Use LMGTFY (Let Me Google That For You) With Screenshot Explanation
If you still don't understand the above steps, then the screenshot will give you the bright idea, so comment us how we present you this article. Is it easy to understand or difficult?
Step #1. Open the http://lmgtfy.com/ in a new web browser and you will get the page as seen in the image below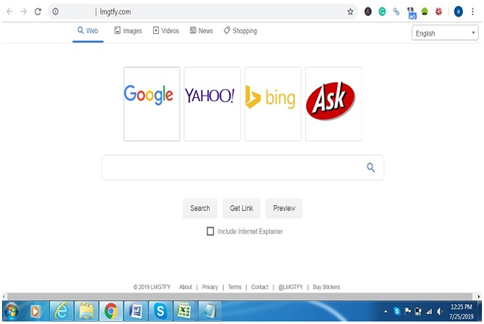 Step #2. Use the search bar and paste the question which you asked?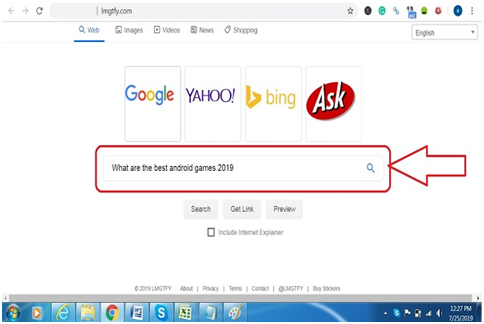 Step #3. Now click on the Search button.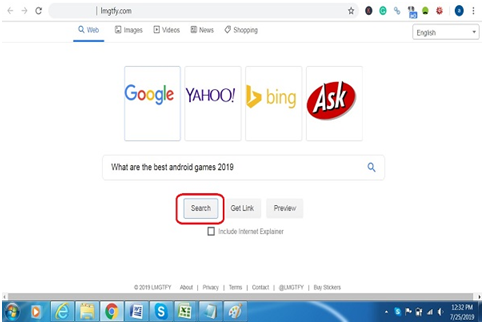 Step #4. It wills popup your question to the Google search results.
Step #5. Now go to the LMGTFY page where you type/paste the question, and click on the "get link" button located at the bottom of the search bar.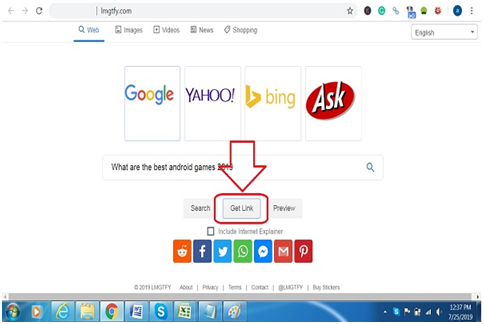 Step #6. Once you click on "Get Link," you will see the notification appear on the button. See screenshot.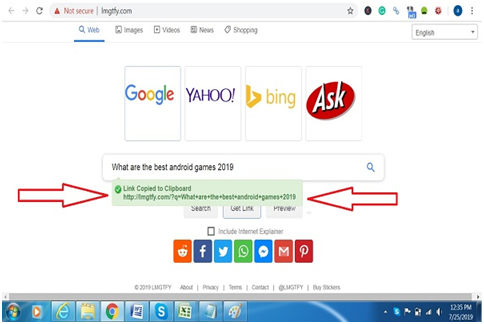 Step #7. The link I got for that question is (http://lmgtfy.com/?q=What+are+the+best+android+games+2019). You can now paste this link under the reply of that person who asks you the item.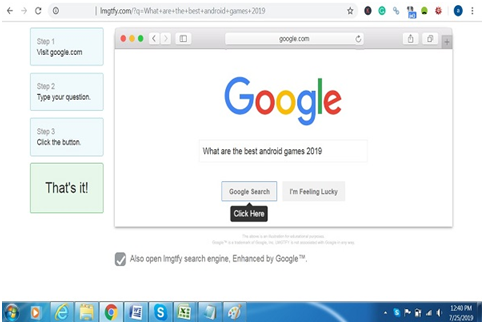 Step #8. When a person clicks on that link he will get something popup on a web browser like this, see screenshot below.
We hope that this explanation of how you can send the answer to any question asked by your family or friend with LMGTFY. There is lmgtfy apk and lmgtfy iOS application available, if you are interested in getting the lmgtfy app on your Android or iPhone then comments us.
Final Words:
This article is about how you can reply with the lmgtfy way, any question that can be Google, and people are still asking from you. Sometimes the relationship with the opposite person stops you to say directly no, but you can realize them that they can also use the Google search engine to get an answer. The best way to respond to them is to LMGTFY (Let Me Google That For You), shorter link generator method. As far as our other informative articles, this topic also provided beneficial information, and we hope that you like it. Also share your experience in a comment below, how much you enjoy lmgtfy for replying the question came from family or friends.