It is correct whenever you experience something you get the bright idea of what, how, and where things are done. Same thing I experienced with the Walgreens passport photo and shocked that it is so easy to get the passport photo as you are visiting your local medical store. If you are applying first time for the new passport or you are renewing your current passport, it does not change anything with a passport photo, where current passport requirement remains the same.
I was applying for free education in Finland, which required my passport photos to complete the form on its online website and for same passport size photo required in open educational Finland project office near my town. It does not mean that I was not prepared for detail before applying for education in Finland. But the requirement for the photos says, "Only the current passport photo is acceptable, which will be verified during the confirmation on a video call." So, I took help from the Walgreens passport photo which helped me to get the perfect passport size photo. Let's talk more about Walgreens passport photo service.
IMPORTANT: Walgreens passport photo system knows the exact size of the photo required by a different organization such as U.S. Department of State needs 2 copies of the same picture.
About Walgreen Passport Photo:
Walgreens shops nationwide can assist you in taking your fresh passport photo and printing it out. There is no need for an appointment, but the pharmacy advises calling in advance your local shop to ensure that they provide the service. You may even be prepared to submit requests for your passport to certain Walgreens places, although they will not be able to process the complete application. Travellers visiting a Walgreens for passport pictures can be prepared to submit their apps in less than an hour.
Same Day Facility: Walgreens Passport Photo Service
In Walgreens you will get the same day facilities for the following
Prints +Décor:
Prints + Posters
Canvas Prints
Custom Flatting frames
New Layouts
Framed Magnets
Wood Panels
Photo Cubes
11×14 Metal Panels
Wood Hanger Board Print New
Cards:
Premium Cards (New Options)
Premium stationery (New Options)
Graduation
Wedding
Thank You & Full Photo
Birthday
And More
Photo Books:
Custom Cover
Window Cover
Calendars:
5×11 Wall Calendar
4×8 Desktop Calendars
Want Walgreens Passport Photo Registration?
It is your choice to go for Smartphone app or visiting Walgreens website, in my case, I choose a website, and the entire below steps are followed through Walgreens passport photo website.
Step #1. Go to a web browser and open the link https://photo.walgreens.com/store/passport-photos
Step #2. Click on the "Sign In or Register" located at the top right of your Walgreens screen.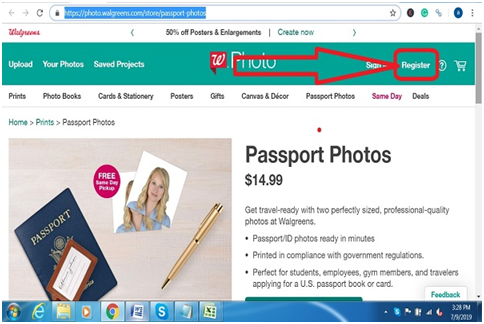 Note: If you have the account, then click on "signs in" otherwise follow me and click on the "register" button.
Step #3. In this step you will be creating an account by providing First name, last name, email address, password, tick on "Get sales, points offers and health tips sent to your email" and click on "Enable PIN Code Sign In" to the provided field.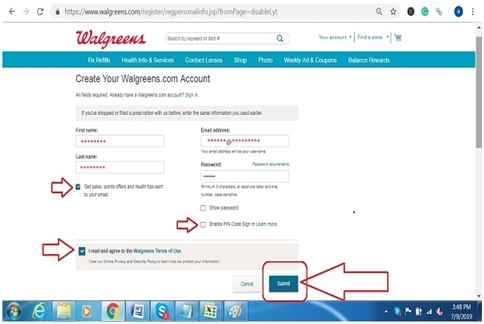 Step #4. During the process, you will get the pop-up notification which required your mobile number to send the PIN code for the confirmation of registration.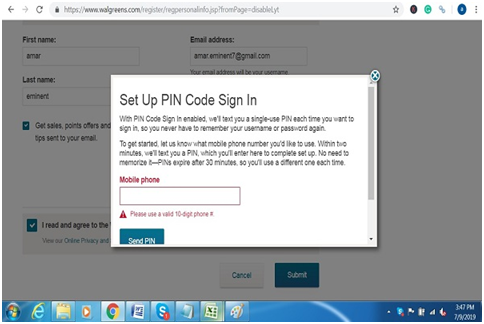 Step #5. After you click on the "Submit" button, you will get the security code into your provided email or mobile number.
Step #6. Enter the PIN for the final process to complete, and you are registered into the Walgreens passport photo service.
How To login For Walgreens Passport Photo
Step #1. Open a new web browser and enter the Walgreens login link
Step #2. Enter Username or Mobile number to the provided field.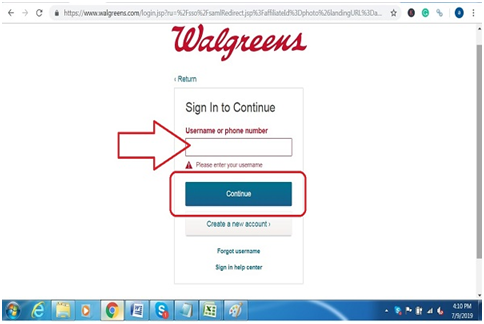 Step #3. Click on the "Continue" button and go into Walgreens website according to your requirement.
Enjoy your fastest passport photo provider service Walgreens passport photo.
Final Words:
In this article, we discussed the fastest service of photo provider as per today's busy life. This service does not stop due to any technology effects, and they work at accurate time mention in the description of every order before confirmation. If you think that you can challenge this Walgreens passport photo service with your current user, then send the report in the comment box or tell us in the comment box that you agree with us. You can also share this information with your family or friend for their easiness in photo requirement in any form.