As well as three new smartphones, Samsung also unveiled three new tablets in the Samsung Galaxy Tab S8 range.
The three new tables are the Samsung Galaxy Tab S8, Galaxy Tab S8+, and the Galaxy Tab S8 Ultra, they come with an 11 inch, 12.4 inches, and a 14.6-inch display. You can see the key specifications for the three tablets below.
Recent Released: Nitebuds, the Music-Listening Pillow for comfortable sleep, launches on Indiegogo
The Galaxy Tab S8 Ultra offers a premium tablet experience unlike any Galaxy Tab before. With its expansive 14.6-inch Super AMOLED display and 120Hz refresh rate, it also boasts Galaxy Tab's thinnest ever bezels at 6.3mm for a maximum screen-to-body ratio for a truly immersive experience. Its gorgeous display is housed in the thinnest, lightest, but strongest body yet, protected by an Armor Aluminum frame that is over 30% more scratch-resistant and 40% less prone to bending than Galaxy Tab S7. For the most premium technology that you can take just about anywhere, the Galaxy Tab S8 Ultra is built to fully immerse you in every video, movie, game and more, on-the-move.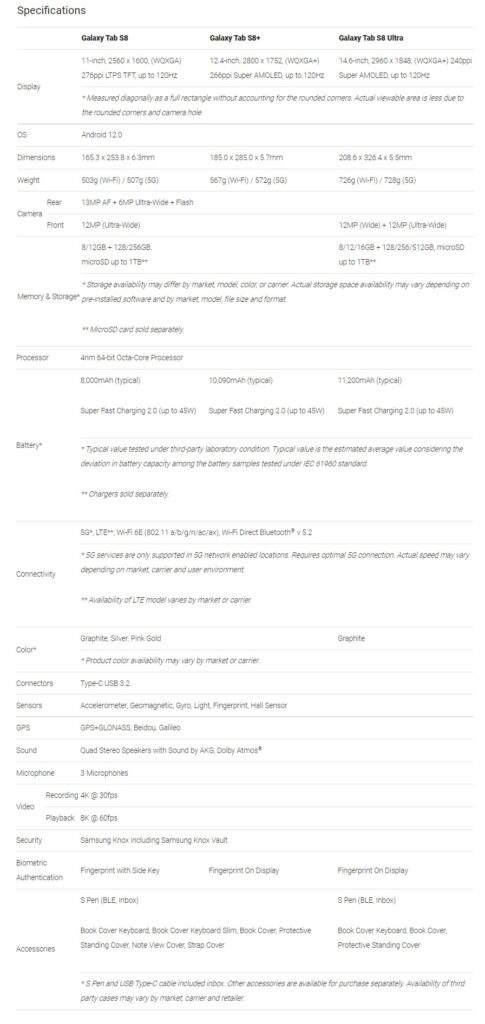 You can find out more details about the three new Samsung Galaxy Tab S8 tablets over at Samsung at the link below.
Source: Samsung