If you are slow in typing on a keyboard then you need the most effective way to learn typing. It is possible because of the smart technical website Typingclub. This website provides the best method to learn how to type and the ration of learned students are more than millions. It is the best teacher I ever have in my entire life because of its smart technology that makes me learn with fun. Before Typingclub I tried other website related to typing such as dance mat typing which is also one of the best typing learning providers but Typingclub successfully made me a good typewriter and my speed is 65 wpm which is increasing fast as I am writing blogs.
If you want to know your typing speed then search "typing speed test" in Google and you will get the best website that will tell you the actual speed of your typing. Another reason that I prefer Typingclub is that you can even advice to your children who are interested to improve the typing speed. There is a whole section of Typing for Kids where interesting typing games are available to interactive with jungle junior for kids.
In my opinion, you should advise your kids or younger siblings who will definitely help them to improve their typing speed, which is useful in future, life. Before sign-in, to typingclub, you need to know more about this website then check out its features.
TypingClub Features:
This is not just the end of the feature but some of the highlights that you can get from the TypingClub typing learning website.
TypingClub provides instant feedback after the typing game completed
TypingClub also summarizes the speed & accuracy of each game at the end of every session.
This website provides the motivation badges to the people that allow going further to reach certain milestones.
TypingClub provides the free version in order to understand the real meaning of this website.
TypingClub is helpful for the teachers in order to customize the lesson.
One can create its own lessons or typing test from the start.
You can create the specific lessons of typing and assign from one to any person.
If your kids need some practices then TypingClub you can assign a special lesson for more practice. The test depends on the capability of kids
TypingClub smart feature will show the typewriter where he/she has a typing mistake which allows them to go forward to correct typing test.
After each lesson, you will get a lot of statistics that show the improvement in your typing skill.
TypingClub results show the accurate percentages, words per minute and star rating which understand the person right possession on TypingClub.
With the data tracking system, you can access the same test date to your kids to see the real-time monitor and the progress of your kid.
TypingClub also has the recording feature which allows you to replay all the activities of your kids during the test.
How To Sign Up @ Typingclub
Step #1. Open the link in new browser SIGN-UP
Step #2. At this sign-up page, you will be asking a few options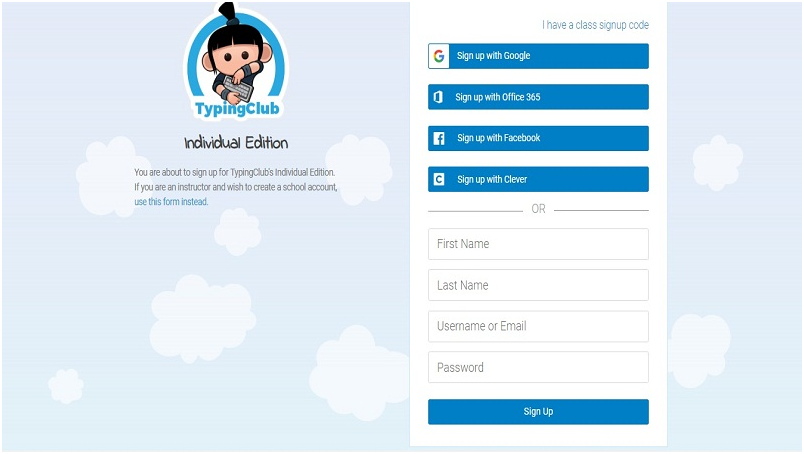 Sign up with Google
Sign up with Office365
Sign up with Facebook
Sign up with Clever
OR
You can enter your First Name, Last Name, Username or Email, Password to the provided field. Then click on the "Sign Up" button
Step #3. Now it's checking profile, wait till it finished.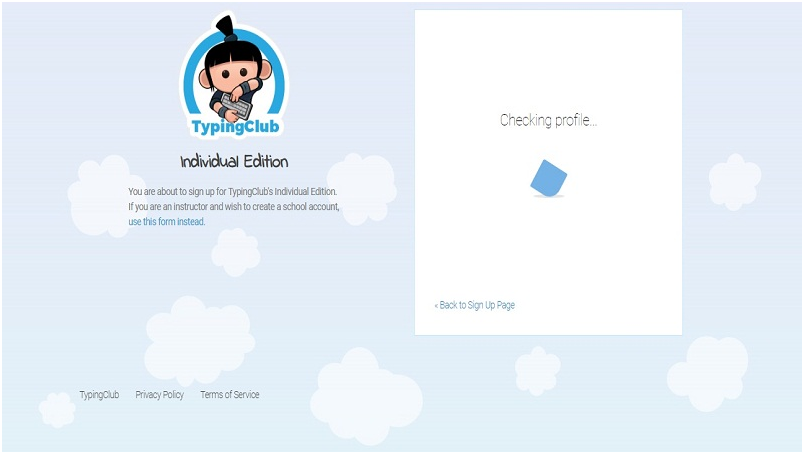 Step #4. Now we are ready to use typingclub with this amazing website.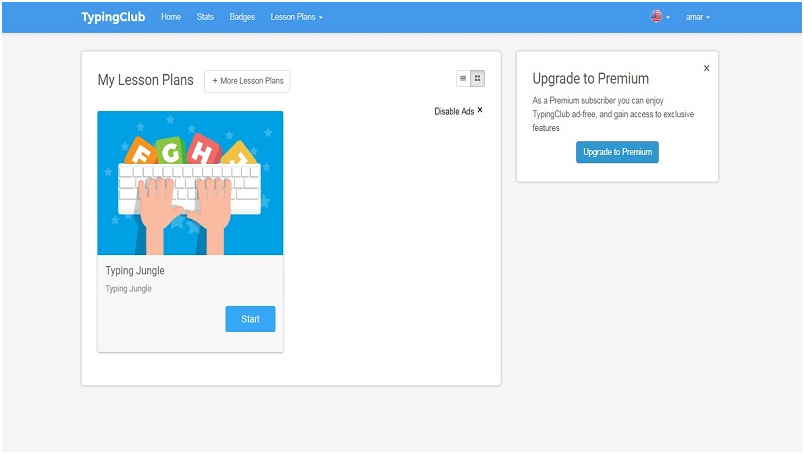 How to Login @ Typingclub
Step #1. First, you need to open the link into new web browser Typingclub
Step #2. You are now at the main page of Typingclub, where you find the Log in button at the top right of your screen. Click on it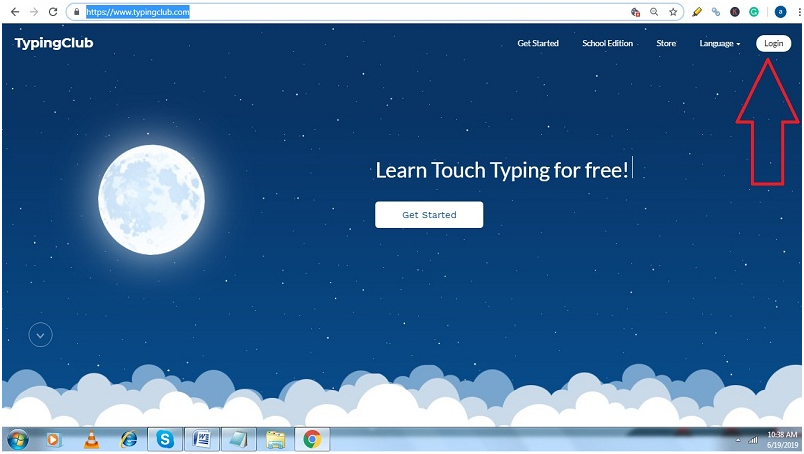 Step #3. Enter your login username or Email and Password to the provided field and then click on the "Sign in" button.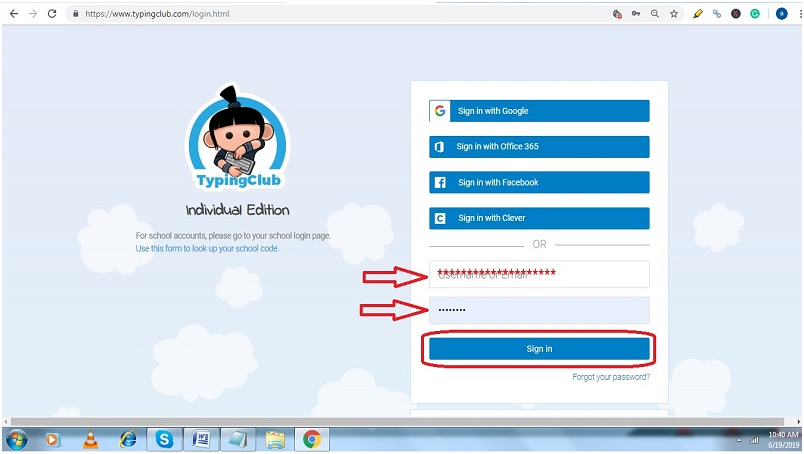 Step #4. Now you have successfully login to the typingclub home page and enjoy your typing learning.
Note:  If your login detail does not match properly then you will get this notification "The username and password you entered did not match our records. Please double-check and try again."
If you forget your password then you follow the below steps to get a new password.
Forget Password On Typingclub?
Step #1. In any case, if you forget your password then you should click on "Forgot your password?" mention below the sign-in button.
Step #2. In this step, you will enter your email address which you add during sign up time. Enter the EMAIL ID and click on "Reset Password" button.
Step #3. The Typingclub system will send the confirmation with some security link, follow it and you can reset your password.
Note: Any formalities during reset password are only to assure that you are the real person for security purpose.
Step #4. After reset goes to the login page and enter the ID password to enjoy the typingclub learning class.
Final Word:
If you want to become the writer then TypingClub is the best teaching platform which helps to learn how to type. You cannot just press the key with the finger, the real technique is to sharp your mind which indicates the direction of keys on the keyboard to fingers. This TypingClub website is very useful for the teacher to makes the online test papers for the entire class or for the individual. If you have the kid then TypingClub also helps your kids with the junior jungle lessons and understand them to learn, without any parent's efforts. There are many questions raised related to this topic if you want to know more about TypingClub then comment to us and we will help you to get the most effective way to learn to type in 2019. We hope that this article provides you the useful information of learning, share with your friends and family to forward the benefit of this article to them.