In this article, we mention two methods which allow to Electra app work on the iOS device with and without a computer system. Electra jailbreak methods are compatible with iPhone, iPad or iPod current running with iOS version 11.0 to 11.4.1.
We had mentioned the steps with two different methods of how to install Electra jailbreak but before you need to know about Electra Jailbreak. It is a semi-untethered which means that this tool needs to be Jailbroken whenever it reboot, this process can be done through an app from the iPhone, iPad or iPod touch and no computer needed for this process. This tool is introduced by the Coolstar the famous developer and hacker; this semi-untethered jailbreak tool exploits the use of Ian Beer async_awake which is used by LiberiOS Jailbreak as well. Also Download Yalu Jailbreak Download
Electra is the first jailbreak online method to install Electra IPA to iPhone or iPad by Size. It jailbreaks support the iOS 11.4 to 11.4.1 which is possible with the update of Electra 1.2.7 the updated version.
Download & Install Electra for iOS 11.0 – 11.4.1 With Computer
In order to jailbreak iOS device, you need Electra jailbreak download for your iOS device
Step #1. Follow the official link to download Coolstar Electra
Step#2. Connect your iOS device into Mac and open the Cydia Impactor tool from the system.
Step #3. If your device will be listed in Impactor which means that your device is plugged, now add elector app to sideload by dragging as you can see in the picture.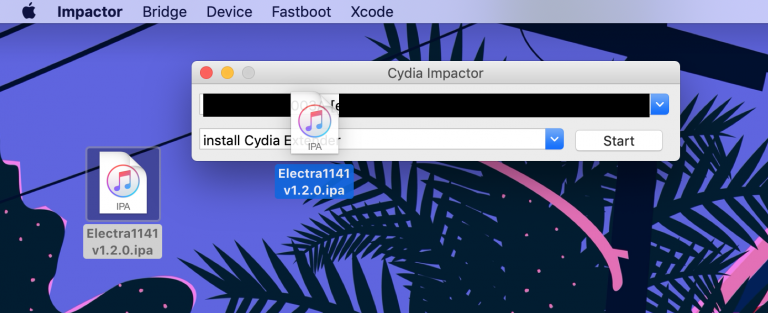 Step #4. Here you need to enter your Apple ID & password in order to prompted, some time Apple has some authentication on their account to active then the user needs to generate app-specific password needed to complete the process.
Step #5. If the process is correctly applied then the app will be on your iOS device.  Here you need to go to iPhone/iPad system setting > General > Profiles & Device Manager > Type your ID and click on Trust.
Step #6. From the Home Screen launch the Electra tool.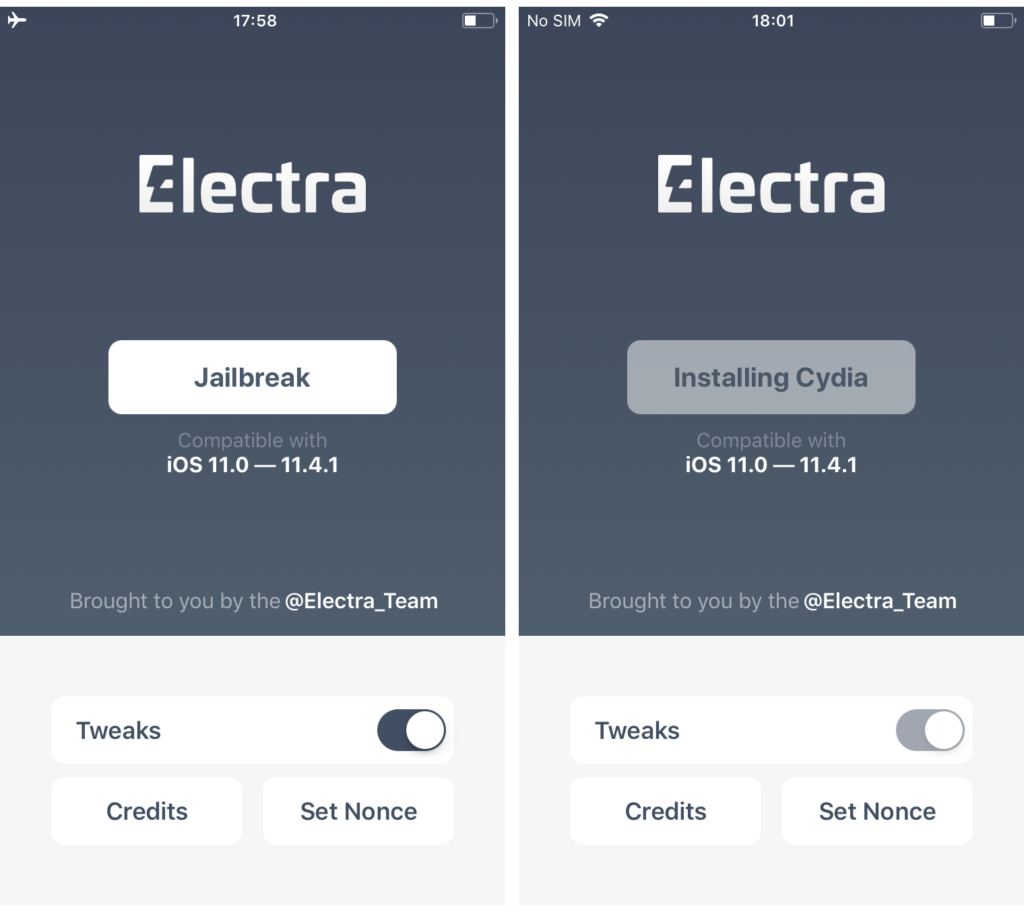 Step #7.  Click on the Jailbreak to start a process
This is the first version of too and took the link for the third party source, so you need to deal with any type of error occur. We already tested this Electra tool which provides the best performance in function and features without any error on iPhone 7 on iOS 11.4.1
Step #8. Now the tool run perfectly then installs Cydia and spring up again. Go back to home and start Cydia to Launch
Step #9. If you have repo666.ultrasnow.com repo then remove which provide errors while installing any essential updates such as Sileo etc (Optional).
Step #10. Now install package to check that the tool works perfectly such as install substitute and other essential packages etc. You can see the picture where Cydia homepage is showing iPhone 7 running on iOS 11.4.1 Jailbroken with the installed selection of core packages on a device.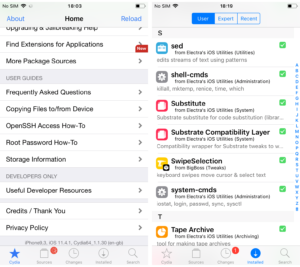 I use uncover for my personal driver because this is more stable with active development which is operated with Saurik's blessing. It is clear so far by having no error or issue during my working time with Electra 1141 all thanks to the blistering speed. If you have the knowledge of Jailbreaking then it is possible to work with any tools or exploits to get benefit from the store. If you are testing Electra jailbreak iOS 12 then it will be the big risk to carry for the latest version, instead, you need to skip for a while but it will work on the latest platform of iOS.
Electra Jailbreak – iPhone iPad & iPod (11.0 TO 11.4.1) Using Electra & Install Cydia With No Computer
In this method, we will show you how Electra jailbreak download no computer works and this, not the magic only you need to concentrate with the method mention below and get it to work properly without any error for Electra download. This method also includes the Electra jailbreak 11.3 iOS device, so go on and get Electra on your device.
Step #1. From the iOS device open the TweakBox link to download with the help of Safari Internet browser.
Step #2. When successfully installed Tweakbox app navigate to Apps > Tweakbox Apps > Electra 1.2.x (latest version can appear if available)
Step #3. Once you navigate to Electra iOS, tap on it to install.
Step #4. A new notification will Pop up on page "If you want to install the app" click on the Install again. This will start the installation process of Electra on your iOS device.
Step #5. Once you successfully installed Electra jailbreak 11.3 or above if available. From your device setting navigate to Setting > General > Profiles & Device Management and look for Electra installed app profile.
Step #6. Open the Electra app and click on "TRUST" twice to get perfect run on your device. This will help to get no error during operating the tool.
Step #7. For the successful Jailbreak, you need to turn on the Airplane mode form iOS device.
Step #8. Now without wasting time start the Jailbreak process by opening the Electra app and tap on "Jailbreak" Button. This process will install Cydia which means that do not operate anything on the iOS device until this process does not finish.
Step #9. Your device should Respiring once the installation of Cydia completed. You will see the Cydia app icon on your device home screen.
Step #10. You can open the Cydia app from your device which will work properly. (Some time it gives an error to open, so open Electra app and tap on Jailbreak once again in order to enable the Jailbreak)
Step #11. This Jailbreak is Semi-Tethered which will disable its entire feature with a single reboot.
Step #12. If you want again Jailbreak to a device then open the Electra app and follow the Step#8 which will be necessary every time you reboot.
Step #13. Your Jailbreak function will restore whenever your device resprings.
Step #14. Apple is the big maker which can revoke for the certificate for this app, in this way Electra app will begin to crash if you try to open it. Then you need to reinstall all again if it does not work then try the Electra jailbreak download computer method.
Finally, you can restore from the iOS 12.1.1 in iTunes, if you want the risk on a device to first edition tool on iOS 12.0-12.1.1 jailbreak is on the horizon with iOS 11.4.X and signing window. It will be possible to restore in future to jump from iOS 11.X to iOS 12.1.1 or you can skip Electra jailbreak 11.4 completely and restore iOS 12.1.1 through iTunes without taking any risk.